Cast Me
By: Lorraine Parow, artist,, writer. producer, director, and photographer.
I DID IT! I wrote a dance performance piece.
Submitted it in a competition and have secured a winning space in The Nuit Rose Festival.
Cast Me will be performed four times on the evening of June 25th, 2016.
The Story: In 2013 my elderly parents' had a sudden marriage demise followed by five long years of my step-dad forcing my mom through the court system, un-homing her.
These events were so shocking that they provoked me to question life and love.
Cast Me is my answer to this horrible experience.
INSPIRATION:
With the help of my mother's ever enduring faith, trust, hope and honesty I was able to create Cast Me.
Synopsis
Cast Me is a unique, one-of-a-kind moving art and dance performance. It plays with shifting identities by journeying through life's- challenges. Cast Me is about discovering the true home of real love.
Credits
Writer, Director, Producer: Lorraine Parow
Performance: Gerry Threntham
Hand Formed Castings: Lorraine Parow
Music Direction: Lorraine Parow
Cello: Tim Bartsch
Set: Lorraine Parow
Lighting: Lorraine Parow
Photography: Lorraine Parow
Video: Lorraine Parow, Sandra Kipis.
there wasn't a dry eye in the house as each live Cast Me performance ended.
With each performance we had a packed house of standing room only.
As the Cast Me story settled squarely into the laps of the audience I noticed that " there wasn't a dry eye in the house". "How truly humbling this is for me to discover that I could turn such horrible events around in such a manner that I could positively impact others."
THANK YOU Gerry for trusting me.
The growing legacy of the CAST ME original artwork.
Cast Me winning a spot in Featured show in CONTACT.
Gum over palladium limited edition fine art prints in featured show in CONTACT.
Special thanks to Bob Carnie for custom printing gum over palladium prints for Cast Me#1, and #2.
Legacy continues with Cast Me
Cast Me wins in the 2019 Black and White Spider Awards.
From: Black and White Spider Awards 2019
To: parowpictures
6418 entries were received from 73 countries and your work received the following:
Nominee in Nude, Cast Me (below)
The bonus surprise for me; After the performance installation closed that night my mom revealed to me for the first time ever that I was born with a twisted torso. Doctors provided my mom with a casting of a perfect babies back and advised my mom to lay me in this body cast for the first year of my life. She explained that my hips and lower body faced one direction while my upper body faced another direction.
WHO KNEW! 
Now as I reflect upon my past athletic accomplishments and my extremely physical job as a 'location photographer' (schlepping giant steel cases of lighting and photo gear) and of course this production of making casts for Cast Me, I now realize that I am healthy because I've been privileged to have had my mom's love, nurturing and commitment in that first year. WOW how lucky am I!
This is a miracle in a million ways!
The Cast Me legacy grows again
Cast Me wins in the 2020 International Color Awards
2020
From: The International Color Awards
To: parowpictures
There were 6800 entries from 73 countries and Cast Me receives:
Honourable mention in the Fine Art category, Cast Me #1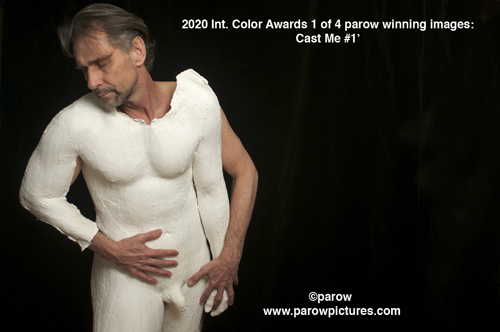 Looking forward to the possibilities for 2021